LEGO Harry Potter Hungarian Horntail Dragon Building Toy (76406)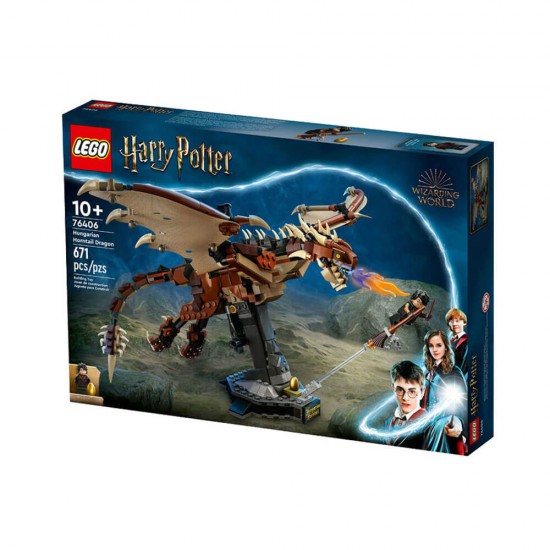 LEGO Harry Potter Hungarian Horntail Dragon Building Toy (76406)
Limited Delivery within Katmandu Valley.
Please place your order 2-3 days ahead of the actual delivery date.
Description:
Let fans of the mythical films build, display, and 'fly' one of the most threatening dragons ever to have lived in the Wizarding World! The LEGO Harry Potter Hungarian Horntail Dragon figure is based on the fearsome dragon from the Triwizard Tournament.
Buildable LEGO Harry Potter Model! Beware the black scales, spiked tail, and fiery breath of the Hungarian Horntail – the legendary dragon from the Wizarding World. Now fans can build and display this formidable beast – in Harry Potter LEGO form! But that's not all. Turn the handle at the rear to see the dragon's fabric wings flap up and down in a realistic motion, revealing a jointed wingspan of over 15 in. (40 cm).
Features:
1x LEGO Harry Potter 76406 Hungarian Horntail Set
Contains 671 pieces
1x Harry Potter Minifigure, 'flying' broom, golden egg, and fabric wings
With a wingspan of over 40 cm and a maximum length of over 48 cm
Buildable Hungarian Horntail dragon display model with moving mechanical wings
A handle at the rear operates a mechanism that moves the wings up and down
Free LEGO Building Instructions app lets kids zoom and rotate as they build
Part of an extensive range of Harry Potter LEGO playsets
Notes & Tips:
Suitable for ages 10 yrs and older.
Stock:

In Stock

SKU:

LHP-LD-003